Wed, Sep 15, 2021 / Jobs & the Economy
A MESSAGE FROM CONGRESSMAN HOYER

Happy National Small Business Week!  This year, I am pleased to recognize the work of so many small businesses and entrepreneurs across Maryland's Fifth District. Our small businesses and entrepreneurs are what make our District special. From our local restaurants to our grocery stores, these small firms are the heartbeat of our communities and help drive our economic growth. Earlier this week, I had the opportunity to visit the Patuxent Brewing Company in Waldorf, the only black-owned brewery in Charles County, and meet with its owners. I enjoyed touring the brewery and hearing about how co-owners Gene Lott, Tranice Watts, and Davie Feaster have found success since the businesses' opening in 2019 and their efforts to give back to our community.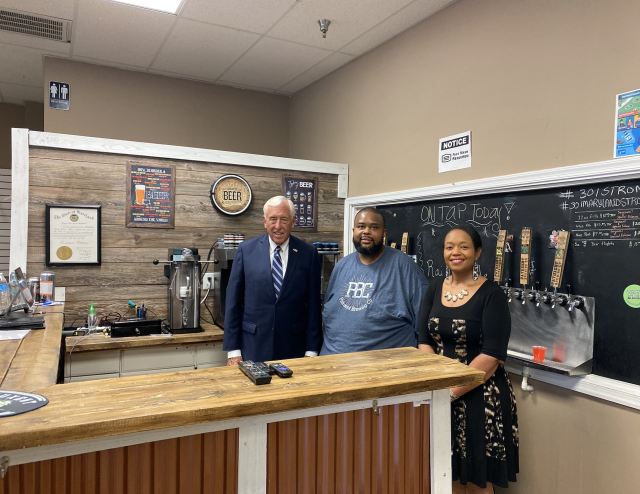 During this pandemic, small businesses have worked hard to keep the lights on and their doors open. With the bipartisan CARES Act, Congress established programs like the Paycheck Protection Program, Economic Injury Disaster Loans (EIDL), and the Targeted EIDL Advance Program to provide relief for owners. Building on this work through the American Rescue Plan, Democrats in Congress voted to provide an additional $50 billion in funding for small businesses to strengthen opportunities for them to make it through this crisis. Now, it is important to look ahead and ensure our small businesses can thrive well into the future.
That is why I am working hard with my colleagues in Congress to pass President Biden's Build Back Better Act. With this legislation, we can solve lasting challenges that small businesses continue to face, including increasing access to capital, expanding government contract opportunities, driving innovation by supporting underserved communities, and improving opportunities for entrepreneurs. As our economy strengthens from this crisis, the Build Back Better Act will make key investments into our small businesses that ensure they are not left behind.
If you are a small business owner, see below for additional resources that can assist you.
For Maryland Resources, see below:
For Resources from the Small Business Administration, see below:
As always, I encourage all Fifth District residents to continue to share their concerns and insights with me by contacting my office or connecting with me on Facebook, Twitter, or Instagram. If you are experiencing a personal difficulty such as issues accessing veterans benefits or another problem regarding a federal agency and you wish for my office to place an inquiry on your behalf, please complete the casework request form by clicking here.   
Sincerely Yours,   

 
Steny H. Hoyer  

For more information about our releases, please contact Maya Valentine at 202-226-1290.

>