WASHINGTON, DC – This week, Congressman Steny H. Hoyer (MD-05) delivered remarks on the House Floor in honor of his friend and longtime advisor Keith Abouchar who recently retired from federal service. Below is a video and transcript of his remarks: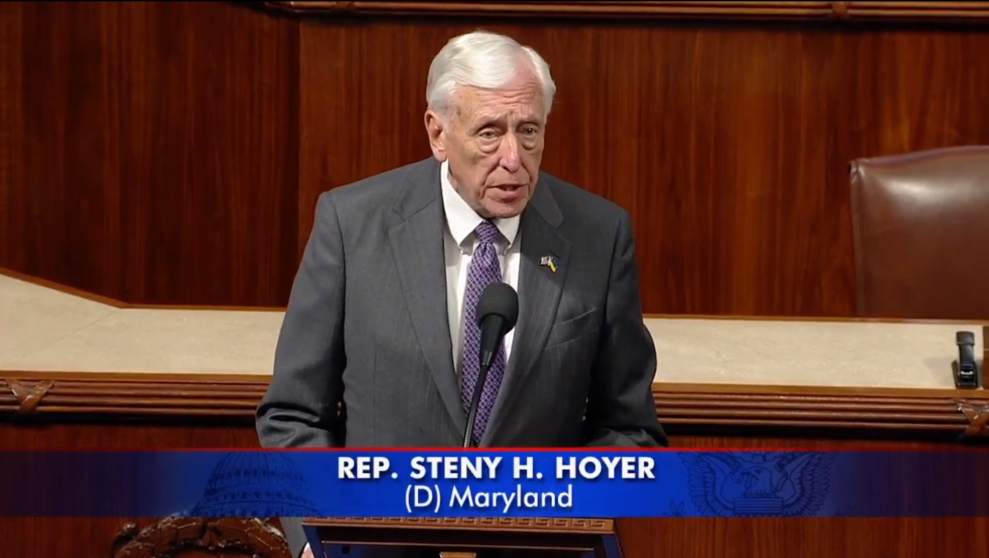 To watch the full video, click here. 
"I rise today, as I have in the past on this Floor, for Republican staffers and Democratic staffers to thank them, to thank them for their service to the House of Representatives. Thank them for their service to the Congress of the United States and thank them for their service to individual Members and to leadership. I do so again today for my friend who was with me for approximately a quarter of a century. Dr. Keith Abouchar. He has long served as my senior policy advisor on everything from Oversight and Financial Services to Congressional Ethics and Campaign Finance. After working with me for a few years as a Professional Staff Member of the House Oversight Committee and the Committee on House Administration, he joined my leadership staff in 2003. He recently retired at the beginning of this year from federal service after serving this institution, as I said, for more than a quarter of a century. 

"Keith Abouchar – Dr. Abouchar – accomplished much in that time. He played an instrumental role in negotiating the Help America Vote Act, spending many early mornings and late nights to enact a law that The Washington Post later called, and I quote, "the most significant piece of federal election law since the Voting Rights Act." Congratulations, Keith. Similarly, he was an integral to helping us pass the Americans with Disabilities Act amendments in 2008, which strengthened and carried out the intent of Congress for the ADA and for future generations. Keith was also a steadfast advocate for our federal employees and went to great lengths to stave off repeated partisan attempts to cut their pay and benefits and security.
"Perhaps the most significant result of Keith's time in my office, of course, was his marriage to a fellow staffer whose name was Jane. Once coworkers, they are now parents to two incredible children, Adele and Henry. He cherishes his role as their father above all else. It is in this spirit why, when looking back on my time with Keith, I don't think of the list of groundbreaking laws he helped enact. Though that list is long. Instead, I think the virtues that displayed every day here on Capitol Hill are what I'll remember. 
 
"Keith earned a doctorate in Political Science. He's an epic consumer of the printed word. You would typically find him with his head buried in the mountain of papers on his desk. He made frequent use of the Library of Congress, read multiple newspapers daily, and often left the office with a cache of unread papers under his arm. Few can match Keith's mastery of technical details behind the issue on which he worked. Even fewer share his ability to understand how these details impact American's everyday lives. 

"That talent is rooted in Keith's thoughtful demeanor. Quick to offer a piece of wisdom, a word of encouragement, or an expression of gratitude, Keith's generosity made him a beloved feature of our team and of so many people in the private sector and public sector who dealt with him on a daily, weekly, or monthly basis. We all admired the impressive enthusiasm he brought to his work. I can recall many meetings where Keith would speak so quickly and passionately about an issue that we could hardly keep pace. 

"A lifelong student of philosophy, a devout Catholic, Keith's earnest energy stems from his belief in the importance of our work in this, the People's House, and in the ethics that ought to guide each of us in this institution. And through it all. And through it all, Keith maintained a great sense of humor and never took himself too seriously. He was serious, but not serious about himself. Although I am proud to praise Keith, everyone should know that he is a man of deep humility. And perhaps would not want me making a speech on the Floor. However, he's probably squirming in his seat listening to this. And I hope he is. Listening that is – not squirming. Nevertheless, he ought to know how much we have appreciated his service. 

"Who better to serve as my adviser on issues facing our federal workers than a man who himself exemplifies the ideal federal employee. A man of intellect. A man of integrity. A man of generosity. A man of humor. But a very serious and hard working and effective public servant. 

"Madam Speaker, if Keith is listening and I hope he is, I thank him for everything he has done for our country and wish him well as he begins this new chapter in an extraordinarily productive career. Madam Speaker, I bless him, his family, and wish him Godspeed, and I yield back the balance of my time."
For more information about our releases, please contact Maya Valentine at 202-226-1290.